I love anniversaries. And there seem to have been a flurry of them recently. I suppose it's simply that people tend to get married in the summer months and so June/July will always produce a disproportionate number of celebrations.
A few examples: We had dinner at ours this week with friends who were celebrating their 37th anniversary. Kate and I celebrated our own 28th a few weeks ago. Several other friends have facebooked or tweeted anniversary photographs in the last few days, including the lovely Nicky and Sila Lee who celebrated 38 years together during their South American tour to promote The Marriage Course. They are a great inspiration and have double-handedly (well, single-handedly doesn't quite do them justice) inspired many thousands of couples. A little further down the pecking order, my oldest daughter celebrated her first anniversary a few days ago. And we have just had an invite to a party to celebrate some older friends 50th anniversary, another couple who have profoundly influenced us.
Wow! Well done to all. But what is it that makes anniversaries such a big deal?
First and simplest, anniversary are a day of celebration. They make us feel warm and fuzzy!
Look at these two recent captions I read on social media from friends. "Romantic BBQ on the beach with the man of my dreams. Celebrating 27 years of marriage". "Such a perfect day, and I got to spend it with you – thank you – 24th". Great stuff.
Second, anniversaries give us a chance to remember how it all started.
Today is the first time I've seen my eldest since her anniversary and guess what we did? Looked through her wedding photographs. Maybe that's not surprising for a first anniversary. But whenever we have our own anniversaries, there'll always be some moment when Kate and I will talk about our wedding day or how we got together. And if we don't, the children will bring it up and want to know the gory details.
Third, anniversaries give us a sense of achievement.
I'm betting that behind the joyful captions and the gooey anniversary photos will be the faintest hint of 'there but for the grace of God." Kate and I went a little closer to the brink than most about twenty years ago. But I'd be amazed if any couple who have been married for more than a few years don't have their own stories of near-misses or difficult times. We've survived!
Fourth, anniversaries inspire others.
I loved getting the invite from our friends Arthur and Jenny who are celebrating their 50th. What an inspiration in these uncertain times that a lifetime together is a real possibility.
I also loved seeing the photo of Nicky and Sila that I whipped off their twitter feed (sorry!). Thirty eight years together is another terrific achievement. We first met them nearly twenty years ago when we were in the depths of uncertainty about our own marriage. The very fact that they were running a course on marriage – the predecessor to their fabulously successful The Marriage Course – gave us tremendous encouragement that marriage really matters and that we can actually learn how to do it better.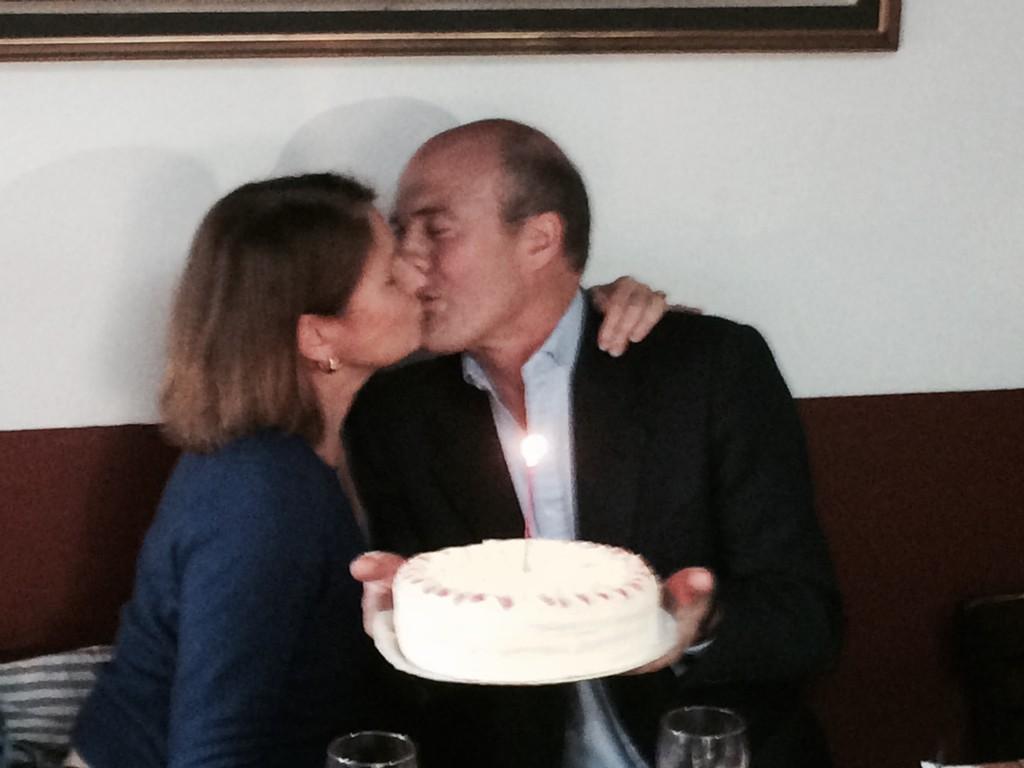 I've felt similarly inspired by our other friends celebrating 24 years or 37 years – and by my daughter Rosie and her husband Tom celebrating their first year. Well done to you too.
So next time somebody asks what difference it makes being married, remember to mention anniversaries.
And to all of you celebrating wedding anniversaries this summer, my huge congratulations. You're an inspiration.