The latest ONS statistics on marriage for 2013 were released by the Office for National Statistics today. Here are a few observations:
First marriage rates are now at an all-time low for brides at 25.6 per 1,000 single women, and equal to the previous all-time low seen in 2009 for grooms at 21.7 per 1,000 unmarried men.
There were fewer weddings in 2013 across all age groups, from age 20 to age 49.
The average age at first marriage continues to climb, at 30.6 for brides and 32.5 for grooms
The big increase in weddings during the first half of 2012 that Marriage Foundation attributed to the Royal wedding in the previous year has well and truly unwound.
There is some evidence that this unwind could have been exacerbated by the 'number 13' effect. The biggest monthly change in weddings was during peak wedding season – falls in June, July, September and December weddings far exceeded an increase in August weddings.
This chart from ONS tells the big picture story all too well: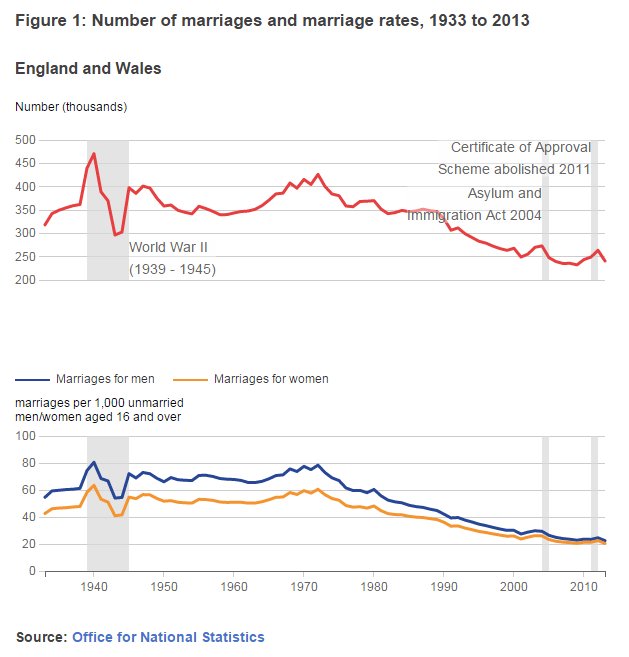 What does it all mean?
Well, the trend away from marriage has been an utter disaster for Britain's families.
There's a simple equation. Couples who don't marry are much less likely to remain together: therefore fewer marriages means more family breakdown.
Our previous research has shown that 76 per cent of parents who are married when their child is born will still be together when the child reaches age 16. This contrasts with just 44 per cent of unmarried parents who stay together if they subsequently marry and just 31 per cent of those who remain unmarried. This analysis is up-to-date and drawn from the survey Understanding Society. We also found that mother's age and education had no effect on stability whatsoever. So once a baby is born, the strongest predictor of whether the parents will stay together boils down to whether they are married.
Family breakdown has already reached epidemic levels, where one quarter of one year olds and nearly half of all teenagers aren't living with both natural parents.
The continuation of this trend away from marriage will only make things worse.
However note well that one group is notable for bucking the trend away from marriage. In another research paper we did last year, based on the Family Resources Survey, we found that 87% of top earners (over £43,000) with young children are married. In other words the better-off are still marrying their droves. Contrast this with the 60 per cent of middle earners and 25 per cent of lowest earners with young children who are married.
Marriage is increasingly the preserve of the rich. And while our policy makers repeatedly tell us that marriage doesn't matter, almost all of them – as high tax payers – ignore their own advice and get married.
The tragedy is that the poor and middle earners have been listening.